Ensure your business is getting the most value out of your cloud environment. Atlasticity's customer-driven support plans allow you to select the level of support that fits your unique business structure and needs. Scalable, cost-effective support options empowers your company to receive the most value from your cloud environment. Focus on business initiatives to drive your company forward with the backing of the industry leading cloud provider, certified AWS Architects, tenured business analysts, and experienced technical support team.
Enhance your team with the trusted Cloud Operations experts at Atlasticity
The business risk is too high for traditional IT practices due to lean IT teams, blind spots, and manual processes. Companies that partner with Atlasticity on their AWS Cloud journey realize the freedom, security, and flexibility of adopting modern technology practices.
Poorly maintained environments leave businesses susceptible to unexpected downtime, data loss, data breaches, and reduced productivity. Atlasticity effectively packages tools, automation, and expertise to deliver monitoring, management, maintenance, and continuous cloud and cost optimization.
The key difference between traditional and Next-Generation Operations is that Next-Generation Operations go beyond the management and monitoring of workloads. They extend their capabilities and offerings into migration, DevOps, security, and other areas of specialization. By doing so, they are able to act as end-to-end cloud solution providers for customers using AWS.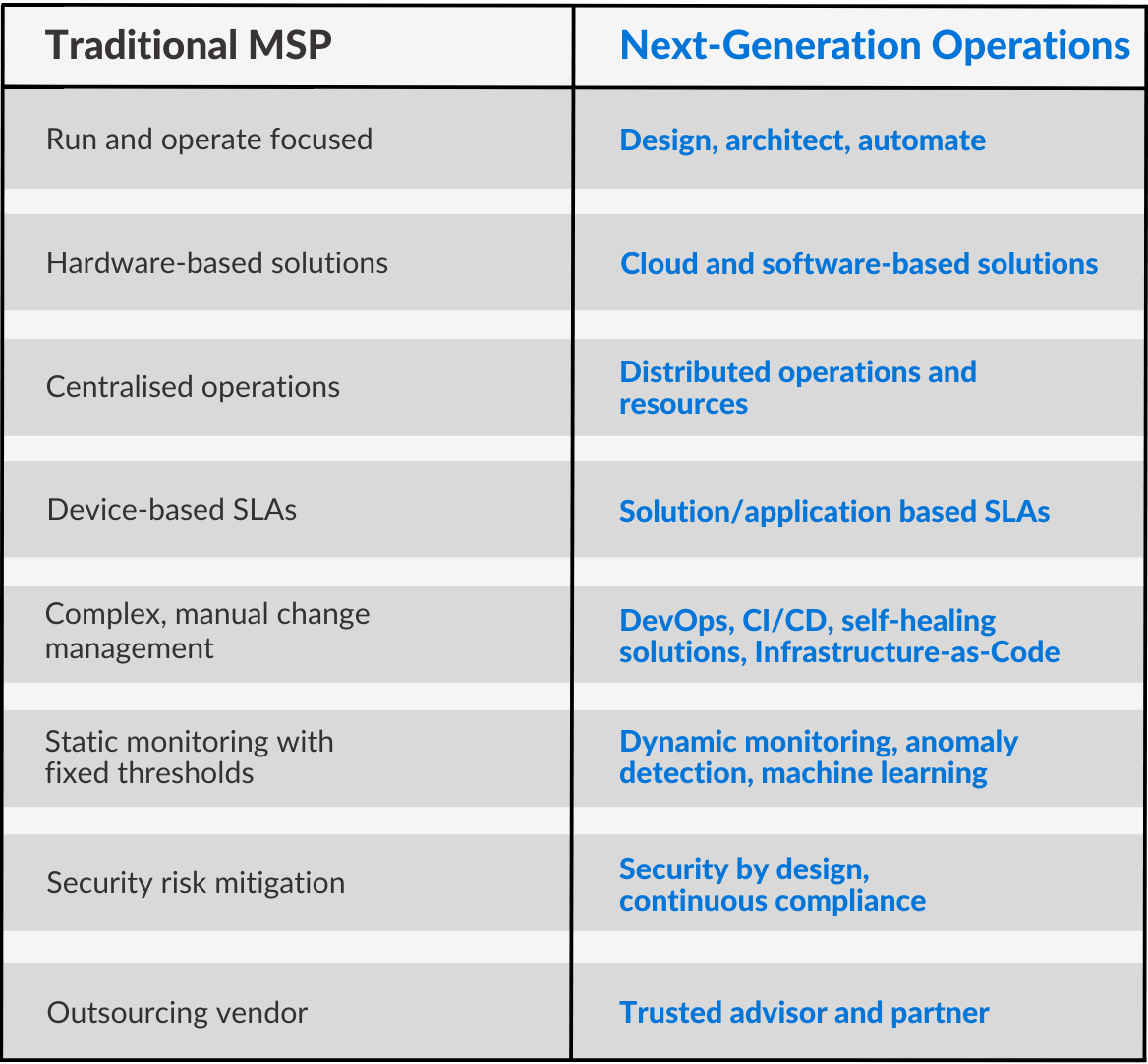 AWS Well Architected Reviews are provided as a part of Cloud Operations service on a monthly, quarterly, or annual basis providing peace of mind that your cloud environment is secure, future proof, and cost optimized
Continually measure, analyze, present, and act upon:
Atlasticity Cloud Operations Services
Monitoring
Critical to supporting your Amazon Web Services environment is 24x7x365 monitoring. Atlasticity integrates their enterprise software to gain total visibility into your cloud environment. Your dedicated team leverages a suite of tools with deep and broad insights, shorter time to resolution, more productive people and operations, and a healthy cloud environment.
Management
Any IT infrastructure needs to be closely managed to ensure applications and services are high performing for your business. Atlasticity's Cloud Operations Team leverages best-in-class tools to manage your AWS cloud services to ensure you're running at optimal performance for your customers and employees.
Security and Governance
Consistent maintenance of your security and software patching, updates, configurations, and backup are essential for a reliable and resilient cloud. Atlasticity's Cloud Operations Team offload tasks for your business ensuring resources are available, healthy, and exceed performance expectations.
AWS Cloud Cost Optimization
Atlasticity's Managed Cloud stands out from the crowd with superior value to your business. Optimize operational performance, pay-as-you go, and control your cloud spend through insights and expertise to lower costs with our continuous improvement methodology.
Integration with your team   
Gain skills and talent, deliver more value, quickly enter new markets. We'll teach as we go and grow together; leverage our knowledge to further yours as you strengthen your relationships with your clients and innovate how you deliver results.
Dedicated Technical Account Manager
A Technical Account Manager (TAM) provides advocacy and helps plan solutions using best practices, assists with case management, delivers insight on AWS cost control, and proactively keeps your AWS environment healthy.
Cloud Management levels include flexible, consumption-based service offerings designed to meet the needs of your organization
Reach out for a free discovery, analysis, and executive presentation on how Atlasticity's Managed Cloud may align with your business